This tour also shows the "Heart of Vienna"  – with another attraction: instead of the Belvedere (summer residence of Prince Eugene) you can admire Schönbrunn Palace (Empress Maria Theresia's favourite castle and summer residence of the Habsburg family)..
Sightseeing by bus or mini-busr – 3 hours
Rate € 210,- not incl. bus
Palaces and Art Nouveau
You will see: the former Ministry of War, the Postsparkasse (by Otto Wagner – an Austrian
architect renowned for his Art Nouveau constructions), the Museum of Applied Arts, the Stadtpark (the City Park with the famous Johann Strauss monument),the Karlsplatz (a  square with St Charles' Church); the Musikvereinssaal (the main concert hall where the famous Vienna New Year's Concert is held every year) and the Secession Building (another Art Nouveau treasure).
Vienna State Opera
and Hotel Sacher. The following highlights are: the Vienna State Opera (one of the leading opera houses in the world), the splendid Hotel Sacher, the Albertina (formerly the palace of Empress Maria Theresia's favourite daughter – now a famous art museum with the largest and most valuable graphic collection in the world, with works such as Dürer's Hare).
Schönbrunn
On our way to Schönbrunn we pass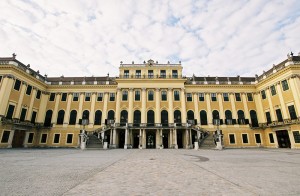 the Naschmarkt (the most famous market in Vienna and a hot tip for a culinary experience), the beautiful houses of Otto Wagner as well as his famous underground stations. After about 20 minutes we reach Schönbrunn Palace where we will take a short walk through the park and view the castle from the outside.
Schönbrunn Palace
Of course, we would also like to show you the state rooms here, which are still completely furnished. You can choose between an overview tour (20 state rooms) and the grand tour (40 state rooms). Please note that visiting the imperial
apartments extends the length of this tour.