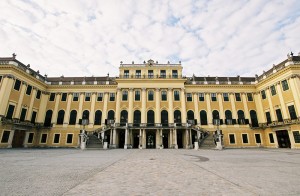 Discover with us the history of the of the summer residence of the Habsburgs. Among many others, Maria Theresa and Francis Stephen of Lorraine, Franz Joseph and Sisi lived here. Then we recommend a walk through the beautiful 200ha. great baroque park of the castle, or visit the oldest zoo in the world, which was founded by Maria Theresa. One of the few zoos beeing home to giant pandas.
Schönbrunn – short tour (highlight or Imperial tour)
about 20 rooms
About 1 hour
1-25 people
meeting in front of the castle
guide 110, – € plus p / p € 10.50 admission fee
Children under 18y.o. € 7.50
Schönbrunn – long tour (Grand Tour)

Large castle tour (Grand Tour)
about 40 rooms
Duration about 1, 5 hours
max. participants: 25
guide 140, – € plus admission fee € 13.50
Children under 18 years € 9.50
Schönbrunn tour – outside opening hours
Enjoy the visit of the castle, nearly empty. – During the day,due to a large stream of visitors, the castle may be crowded. Schönbrunn – combination (half day) Guided visit of the castle, strudel show in the Court Bakery, visit of the garden/park.
Grand tourg guided tour to see the top 25 people
Fee: 600, – € including entrance fees
maximum number. 35 each additional visitors € 20.00
Starting time around 17:30 (5h35 pm)
Duration approximately 1.5 hours